They say patience is a virtue. I know it's one I've been desperately trying to teach my kids and learn myself. I tell them that patience is so important, that if they can learn to wait patiently, so many good things will happen.
But, you know what? That's not the whole truth, is it?
Many of you already know that I applied for a Pepsi Refresh grant in May. I need funding to start a LEGO social skills group for Danny and other kids on the autism spectrum in my town.
Although this project has been very positive--I've had tremendous support from so many, many people--it has also been a serious test of my patience and my ability to wait.
I applied for the grant in April and then had to wait to see if my project was randomly accepted to be voted on. I had to wait what felt like weeks.
And then, once the voting started, I waited all month to see what would happen.
Now that the voting is over, I have to wait until Pepsi audits all the projects to make sure no one cheated. In about three weeks, I should find out for sure whether I won the grant or not.
So, more waiting. More patience.
In these instances, waiting patiently IS a virtue, one that I must strive for or I might just lose my mind.
On the other hand, if I really excelled at waiting, I might never have applied for this grant in the first place. One of the reasons I started this whole project was because I was tired of waiting.
Since Danny was a toddler and diagnosed with Sensory Processing Disorder (and later with autism), I feel like all I have been doing is waiting. Waiting for months to get an appointment with whichever expert I needed to see.
Waiting for those experts to hand down a diagnosis and a treatment plan.
Waiting for therapists to fit me in their already overbooked schedules. Waiting for school staff to evaluate whether Danny needed a social skills group or occupational therapy. Waiting for the therapy to start working and waiting for new therapy equipment to arrive so we could change it up.
You could say the last 6.5 years have been a study in waiting.
But, I've run out of patience.
I'm tired of waiting, which is why I jumped at the chance to start this social skills group. Imagine, I finally have the chance to make something happen without waiting for help from some expert or therapist. Once I have received the training, I will be the expert. I will be the one who helps my son. No more waiting.
I still believe in patience being a virtue and I will continue to cultivate this trait in my kids, but I will also try to focus their impatience in ways that are productive.
Because you know, I think there is a time for patience and a time for action.
And for me, the time for waiting has ended. Now, I'm ready to do something.
~~~~~~~~~~~~~~~~~~~~~~~~~~~~~~~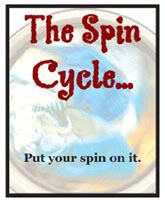 For more posts on waiting, visit the wonderful, generous
Jen at Sprite's Keeper
, because yes, you guessed it: The Spin Cycle has returned!
I've been waiting for this day for months!