I am enjoying this Special Needs Ryan Gosling meme probably more than is healthy. But, honestly this couldn't have come at a better time. The last month and a half have been very overwhelming and stressful for me. A chance to laugh along with other special needs moms who totally get what I am going through has been surprisingly cathartic for me.
Check out more of the Ryan Gosling memes at
Adventures in Extreme Parenthood,
the blog of the hilariously funny Sunday Stillwell. If you need a laugh this week, Ryan Gosling can provide.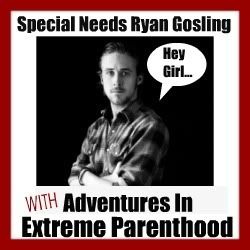 Don't you just love a man who will take charge?
I hope we're not the only ones who think a trip to the pool eliminates the need for bathtime...... Before you judge, keep in mind that hair washing time in my family sounds like a torture session at Abu Ghraib.