The Special Needs Ryan Gosling
meme that Sunday Stillwell started is still going strong. And thank goodness, too! I have never needed humor in my life more than the last several weeks. Thank you, Sunday!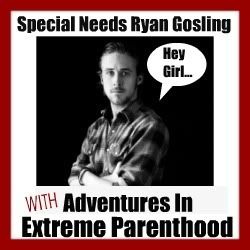 I had school meetings this week and have spent much time researching IEP law and all that happy crap. So, here's my attempt at levity:
And here's a Daylight Savings poster I made last week as I bemoaned the strife and chaos that was about to engulf my household:
Here's a poster Bil made for me after I told him I couldn't go to the store because I wasn't presentable:
Make sure you check out all the other bloggers who are linked up in this meme. Just head on over to
Adventures in Extreme Parenthood
and you'll find a list of bloggers participating.